Superintelligent face recognition
to pick out the best group photos.

Smart elimination

of people to make passersby disappear like magic.




Usability Testing
Heuristic Analysis
User Research
Ideation
Wireframing
Prototyping
I had the inspiration for this project back in 2018 and eventually had the opportunity to bring it to fruition during my graduate studies at Parsons. This project aims to help users who don't have a foundation in Adobe Photoshop to retouch photos to their liking. The idea of this feature is based on the concept of layers in Photoshop. Using Burst Mode on the iPhone, users can select the best stills/frames to create the photograph of their desires.

I added a user-friendly facial recognition and an eraser feature to Apple's existing shooting/editing modes to make it easier for users to select and remove areas they would like to exclude.
I interviewed a total of 12 people from different industries and age groups to maximize the satisfaction of the Apple Camera user personas. Through these interviews, I analyzed the data from the interviews and created a data visualization chart to form a general user blueprint.
Users prefer Apple Camera to third-party photo software

Users are very disturbed when passersby block their photos

It's hard to get a group photo that everyone is happy with

Users want more straightforward photo editing and compositing, regardless of whether they have a basic knowledge of Ps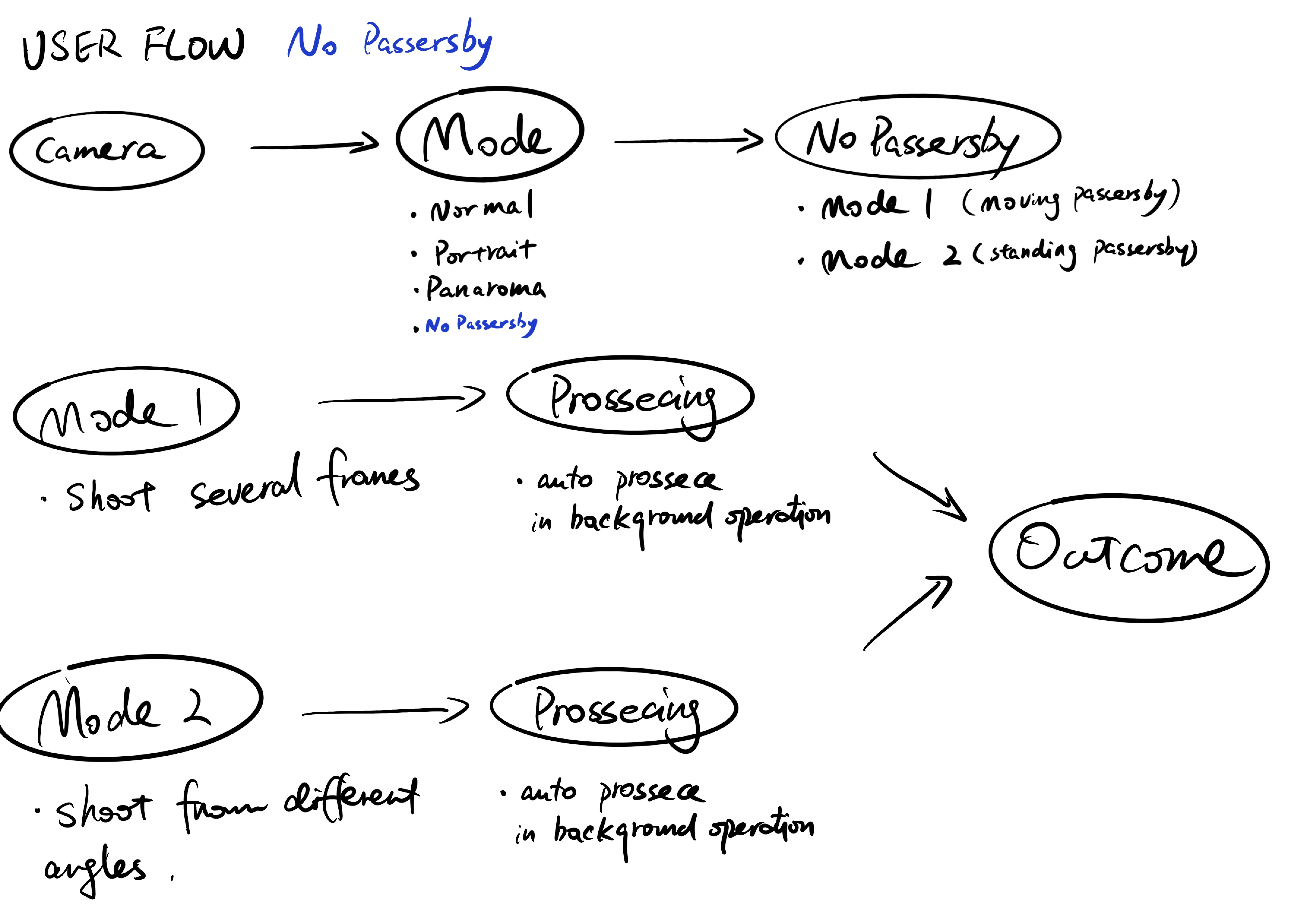 I kept apple's original camera mode to design the new features. First, I found that Apple removed the burst mode from the menu bar since ios14 and replaced it with the new Slide to the left for burst mode. However, since this change was not easy to do for the new features I designed, I chose to put burst mode back into the mode menu. When shooting in burst mode, the iPhone records multiple images, and the users can edit and blend them by selecting different layers of images.
Face Recognition in photo

When you edit a photo, select Face Recognition, click on the object you want to change and choose the best moment.
Looks better in group photo

When you select a object, Slide to choose the best face and pose.
Remove passersby in the back

Click on eraser, then slide your finger again to erase unwanted objects. Burst photos help you fix your photos better.
Automatically delete everyone in the photo and generate a background image.
High-fidelity Prototyping