Overview

CoffeeVerse is a comprehensive mentorship platform catering to the needs of Chinese international students who seek guidance and support during the university application process. It is available on both web and IOS platforms, making it accessible to users across multiple devices.

Methods
market research, semi-structured interviews, competitor analysis, user journey mapping,
lo-to-hi fi prototyping, usability testing, branding









Team
Jeremy Zhao,
Xiaowei Wang,
Andrea Zhu,
Xiaofeng Jia (Researcher)

Tools
Figma
Problem Statement

The story is that a lot of Chinese international students pay tens of thousands of dollars to study abroad agencies because everyone else is doing so. They think that they are left behind if they don't hire one. I was one of them, but it turns out that their services don't worth the money I paid, and the reason they are getting this money is because of the information barriers. Many people were reluctant when deciding whether they should hire a study abroad agency.


Information Barrier for Chinese international students
Most people get information through study abroad agencies, but it is super expensive.
Hard to skip a study abroad agency and find the right person to ask for information.


Expensive living expenses for Chinese international students
They need opportunities to make a side profit.




Upon conducting a thorough analysis of the competitive landscape, it becomes apparent that CoffeeVerse operates in a market that comprises both direct competitors, including ADPlist and 1Point3Acres, and a diverse range of indirect competitors such as LinkedIn and Red, spanning from business and employment-focused platforms to social media and mentorship service providers.

As for CoffeeVerse's relative strengths in comparison to its competitors, two areas stand out as particularly notable: Affordable pricing model and Personalized mentorship. These areas have enabled CoffeeVerse to establish a competitive edge and emerge favorably positioned within the broader competitive landscape.
The target users are Chinese students seeking affordable and personalized mentorship during the university application process.

By conducting online surveys and semi-structured interviews with 9 target users, we were able to obtain comprehensive information about their identity, university application process, as well as their needs and pain points when seeking a mentorship platform.


The interview questions were designed to identify the problem statement by gathering comprehensive information on the user's profile, their approach to finding a mentor, the challenges encountered in the past, preferences for effective methods, and price tolerance range. The primary objective was to validate and sort the features of the platform to ensure an optimal user experience.

I developed two personas that represent typical user types, in order to assist the CoffeeVerse team in better comprehending common user behavior patterns and mental models.
Matched Mentorship
Users expressed the desire to find mentors in their major who can provide specific services more easily. Therefore, the platform should prioritize mentor matching based on majors to provide tailored mentorship.


Mentor Quality
Users care about the quality of the mentor, and would like assurance that their mentor is experienced and knowledgeable in their respective fields. Therefore, the platform should provide a mechanism to vet mentors and showcase their credentials.


Direct Mentor Scheduling
Users would like to check mentor's calendar directly without having to engage in introductory conversations. This would help them avoid unnecessary courtesies and save time. Therefore, the platform should implement a direct scheduling feature that allows users to view mentors' calendars and book appointments.

Based on the insights gained from the user research and interviews, it is recommended that the CoffeeVerse platform prioritize matched mentorship based on majors, vet mentor credentials to ensure quality, and implement a direct scheduling feature to streamline the appointment booking process. These improvements would help to provide a more effective and efficient mentorship experience for Chinese international students during the university application process.





Our team worked together to map out the user flow and separated it into five sections, with each team member taking responsibility for designing a different part. Collaborative design and feedback sessions were held regularly to ensure that the design remained cohesive and met the objectives of the project.
Flow 1: Find a mentor
Improve effectiveness in finding the appropriate mentor

Flow 2: My profile
Help users identify themselves and establish their first "resume" within this platform

Detailed Filters
Users wanted the filter system to be more detailed, allowing them to refine their mentor search based on specific criteria such as industry, skills, and experience level.
Rating System
Users requested a rating system to help them choose the best mentor. The team added a rating system, allowing users to rate and leave feedback on their mentorship sessions, which would help other users select the best mentor for their needs.
Service Customization
Users preferred a customized service, with a clear separation between one-time coffee chats and long-term mentorship sessions. The team incorporated this feedback by creating two separate categories for one-time and long-term mentorship sessions, allowing users to choose the best option for their needs.
The user testing insights were used to improve the mentorship platform's filter, rating system, and service customization. The platform's filter system was refined to be more detailed, allowing users to refine their mentor search based on specific criteria. The rating system was added to help users select the best mentor, and the platform was customized to include a clear separation between one-time coffee chats and long-term mentorship sessions. These improvements were based on user feedback and are designed to provide a better user experience.
The logo for this brand was designed with the inspiration of "Coffee Chat". The logo consists of two symbols, a coffee cup and a chat bubble, that are combined to create a unique and memorable mark.

The theme colors for this brand were chosen to reflect the identity of coffee. The light brown and dark brown colors used in this brand are reminiscent of latte and espresso.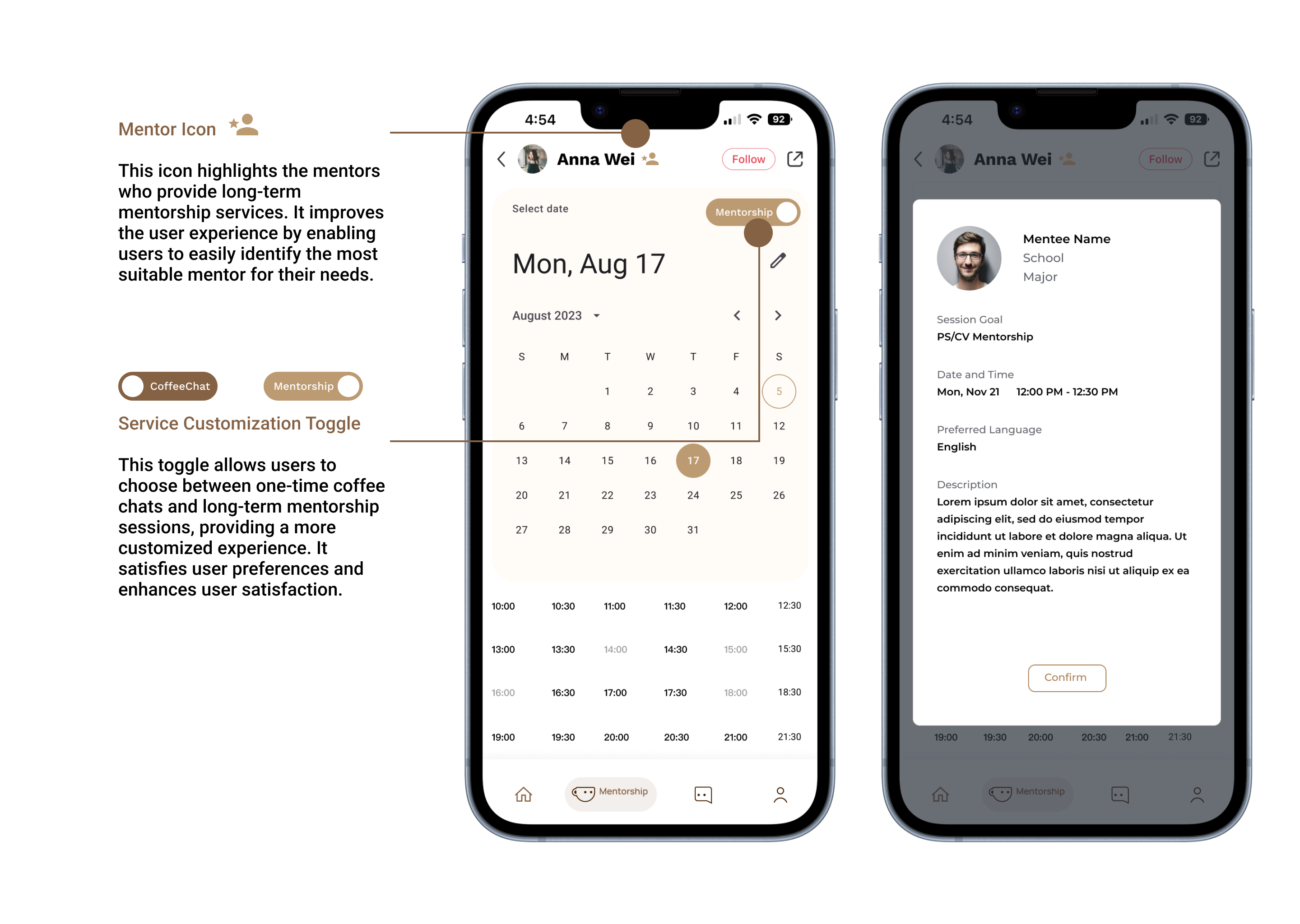 1. Stay Agile
As the project began, I realized that the initial request lacked a clear direction and scope. I took the initiative to design a research plan and conduct user testing to ensure the final product was of high quality. This required me to stay agile and adaptable, making changes as needed to meet the project's evolving needs.


2. User-Centered Approach
During the project, I remained committed to a user-centered approach, putting the needs and wants of users at the forefront of all design decisions. I used their feedback and insights to refine the project's direction and create solutions that were relevant and valuable to users.


3. Collaboration and Communication
To ensure the success of the project, I maintained open and consistent communication with team members, stakeholders, and users. I actively sought feedback and incorporated it into the design process. Additionally, I collaborated with team members, sharing insights and providing feedback to ensure cohesive and consistent design solutions.