Vapeless is a mobile app designed to help users track their e-cigarette usage and manage their vaping habits. With its user-friendly interface, Vapeless allows users to monitor their daily, weekly, and monthly vaping amounts, set daily vaping goals, and track their progress over time. In addition to providing a platform for tracking personal usage, Vapeless also offers a fun and engaging cash competition feature for users to challenge their friends. Users can invite friends to compete, view the prize amount and participant ranking, and be motivated by each other's records. Whether you are trying to quit vaping or simply manage your habit in a healthier way, Vapeless is the perfect tool to help you achieve your goals.
Duration: 15 weeks

Type: Individual

Role: ideation, research, user testing,
wireframing, branding, and prototyping

Tools: Figma
This project was inspired by my own experiences. Vaping is an alternative to cigarettes for me, and it allows me to reduce the amount of time I spend smoking. However, e-cigarettes also cause me some other problems. The convenience of vaping, which is not restricted by time or place, is one of the reasons why I cannot stop using it. E-cigarettes cannot be used in the same way as cigarettes to accurately measure the number of cigarettes smoked each day until your body experiences some physical discomfort, such as feeling a foreign body on your tongue, coughing, dizziness, vomiting, etc.
Problem Statement

Vaping has become a popular alternative to traditional smoking, offering a convenient and accessible option for those looking to reduce their smoking habits. However, the convenience of vaping can also lead to excessive usage, making it difficult for individuals to track and control their habits. Additionally, the physical discomfort associated with reducing vaping, such as coughing, dizziness, and nausea, can be discouraging for individuals trying to quit.
Vapes contain less harmful substances than cigarettes, but they are still harmful to human health.

The majority of vape users are young people.

Some of the existing vape brands have developed apps, such as Juul, that allow users to connect and locate their devices.
Through my research and experience, I created an interview script and interviewed six interviewees between the ages of 22 and 26. In total, one of them had been vaping for more than five years, four had been vaping for approximately two to three years, and one had just started vaping. Since most e-cigarette users are teenagers, I targeted Generation Z and millennials.

Based on the interviews, I was able to gain a deeper understanding of my target audience's experiences with e-cigarettes and their pain points. In addition, I developed an affinity map to assist me in summarizing the insights.
Most of my interviewees began vaping for social reasons.
A cool public persona
By learning some smoking tricks, they can impress others.

Peer pressure
Even if no one is forcing them, they initiate the action in order to feel included.

Word of mouth
Suggestions of alternatives to smoking, as well as a good flavor.

All of my interviewees have doubted the safety of vaping, and they are concerned about their health.
People learn about the dangers of vaping through the news and social media
People are getting reports about the harmful effects of e-cigarettes from mainstream media due to the popularity of e-cigarettes and the increased awareness of vaping.
People vape more frequently due to the convenience.
Compared to smoking, vape is more convenient to use
It is not advisable to smoke indoors since it leaves a strong smell on the clothes and hands. A smoke alarm will sound if you smoke indoors (which is not permitted). Using a vaporizer does not require a lighter, and you can stop and start at any time. It does not emit any smoke odors.

Vape can be used anywhere at any time
All of my interviewees smoke e-cigarettes whether they are stressed or relaxed. They smoke e-cigarettes to relieve the stress they experience at work or school. Vaping also makes them feel happier when playing games or having fun.
Most of my interviewees do not feel addicted to vaping, but they still cannot stop it.
Most of my interviewees think vaping is an unconscious behavior
In general, they agree that they are motivated to vape for the first few puffs, but the act of vaping afterwards is unconscious. Most people stop vaping when they start to experience some discomfort.

It's hard to stop vaping whether the user has self-control or not

Most of my interviewees are unable to stop vaping regardless of their self-control.
Most of my interviewees stop vaping only when they experience physical discomfort.
Cough
Typically occurs when vaping for the first time or after excessive vaping.

Dizzy feeling
A common symptom of overvaping.

Sore throat
A common symptom of overvaping.

Throw up
Typically occurs when vaping for the first time or after excessive vaping.
Compared to smoking, it is more difficult for users to track the amount of vaping.
Users are more aware of the amount of cigarettes they consume
The majority of users are aware of how many cigarettes they smoke on a daily basis by counting the number of cigarettes smoked or remaining in each pack.

Users are barely aware of the amount of vape they consume

Because vape pods can be used for a long period of time, it is difficult to estimate the amount of time per use.
Features:



Time tracking

Overvaping notifications
Cash competition with friends

Problems:

There are two different voices about the cash competition.

"I think it should be more interesting if you can use cash as a bet with your friends."

vs

"If I need to spend money on this app then I will never use it."
Solution:

To satisfy all my users, I'd include all the features.



Use time to record the amount of vaping the user smokes each day.





Users can also customize a daily vaping plan to prevent their discomfort from over-smoking.





Users can also compare the current data with the average data records.




In statistics, daily, weekly, and monthly data diagrams are available.






Users can watch their friends' vaping in real time with the green highlight on the back.





Also, users can compete with group of friends to win cash.
Users would like to know more health related data & information.
Different users may have different needs for the same feature, try to satisfy the most users.
Users prefer a simple and interactive interface.

Users would like to have more interactions with their friends, no matter co-operation or competition.
Give users the opportunity to choose what they want in the app.
When users successfully connect the device, the e-cigarette device will illuminate in the app. Also, users can designate their daily vaping time.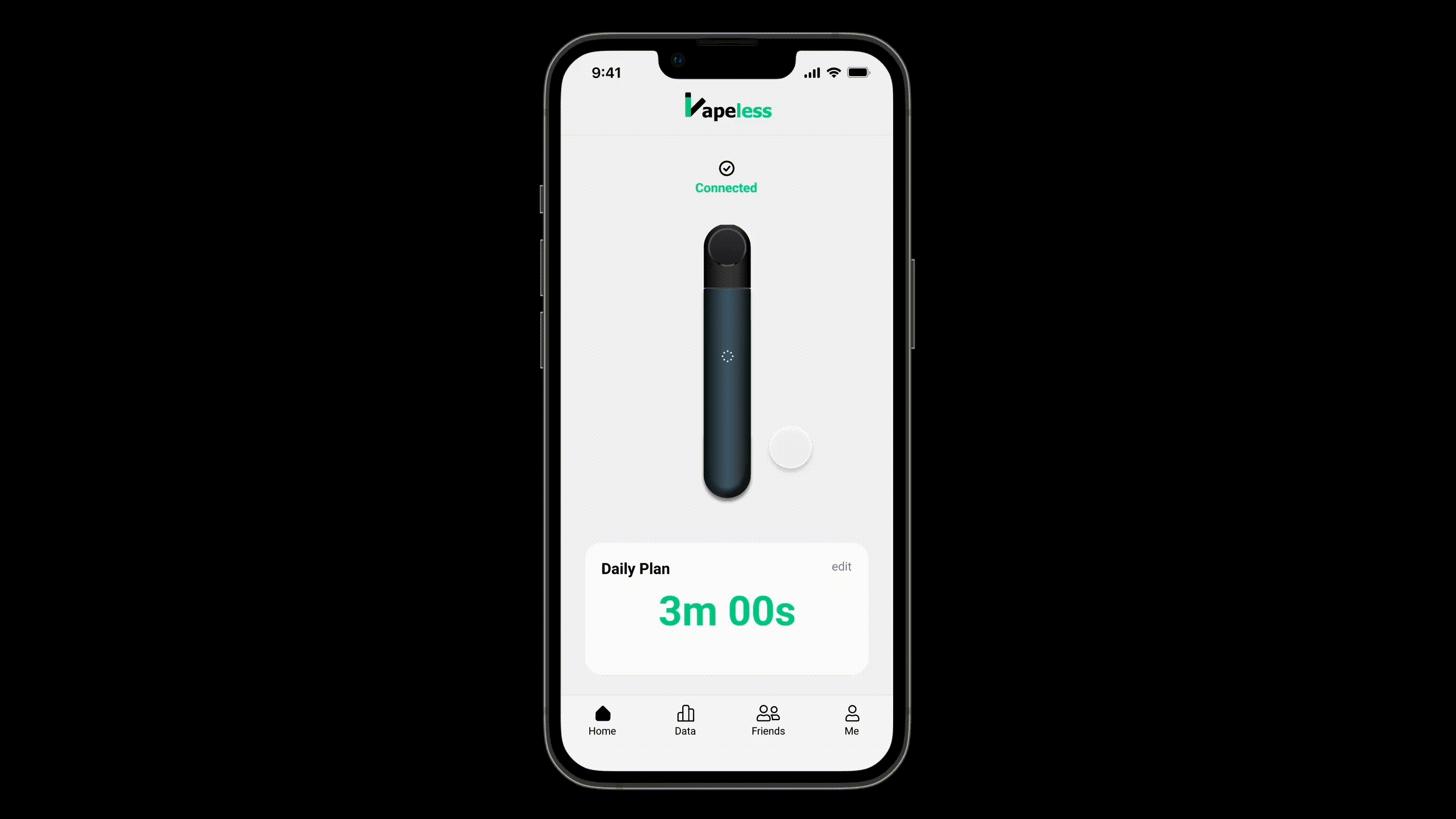 Users will be returned to the main page after completing their settings, which contains the calendar, friends ranking, and daily vaping amounts.
Clicking on the different dates in the calendar will allow users to view their records for the last two weeks. Users can expand the entire month by clicking the calendar to view an earlier history.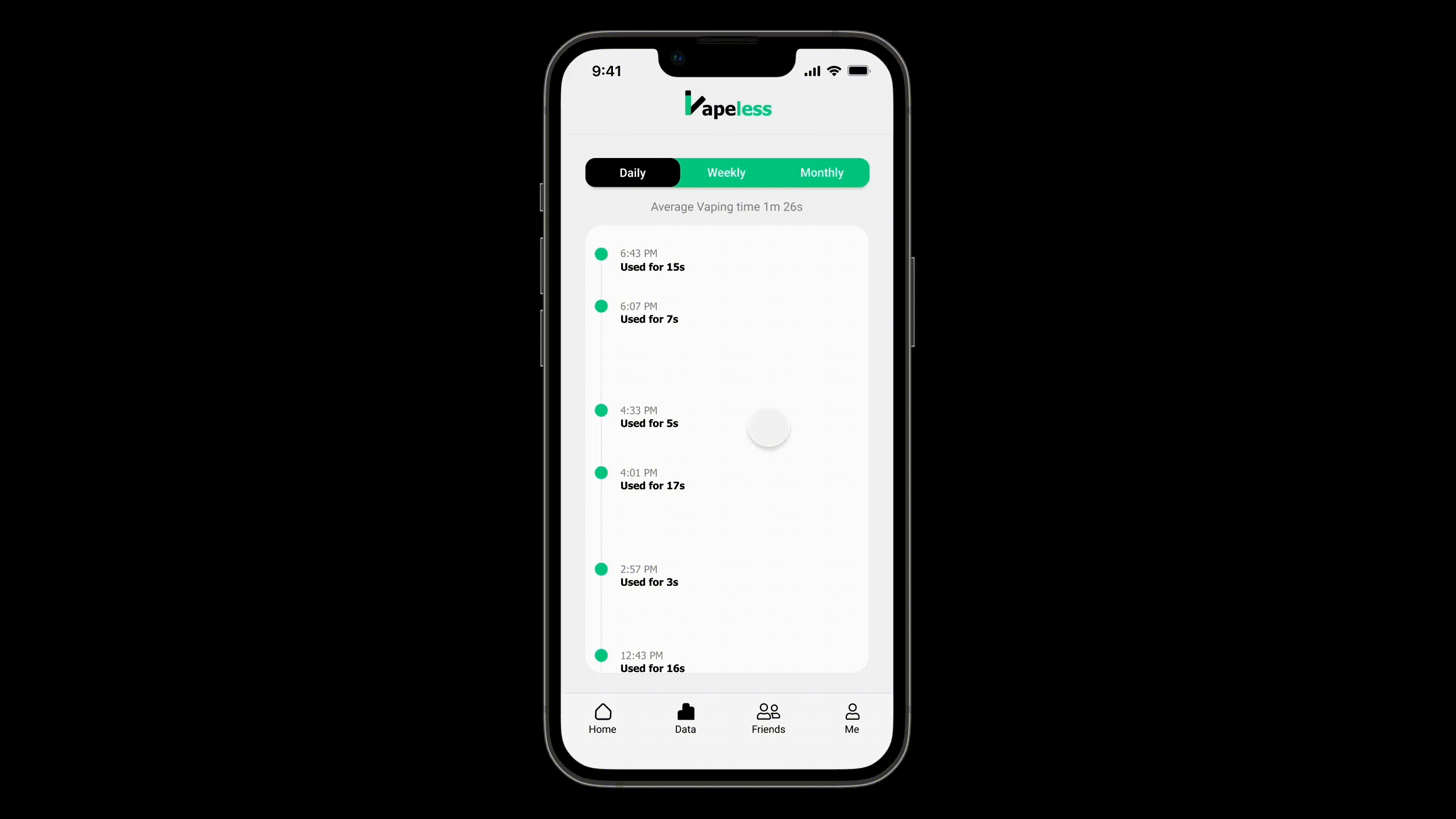 Users will be able to see the exact time of the daily vaping on the Daily page. The timeline on the left allows users to easily determine which period of time they use vaping the most frequently.
With data for a specific week, users may see their e-cigarette consumption for that period. The Weekly data will be presented in the form of a bar graph, and the users will be able to observe their smoking habits by altering the values and colors.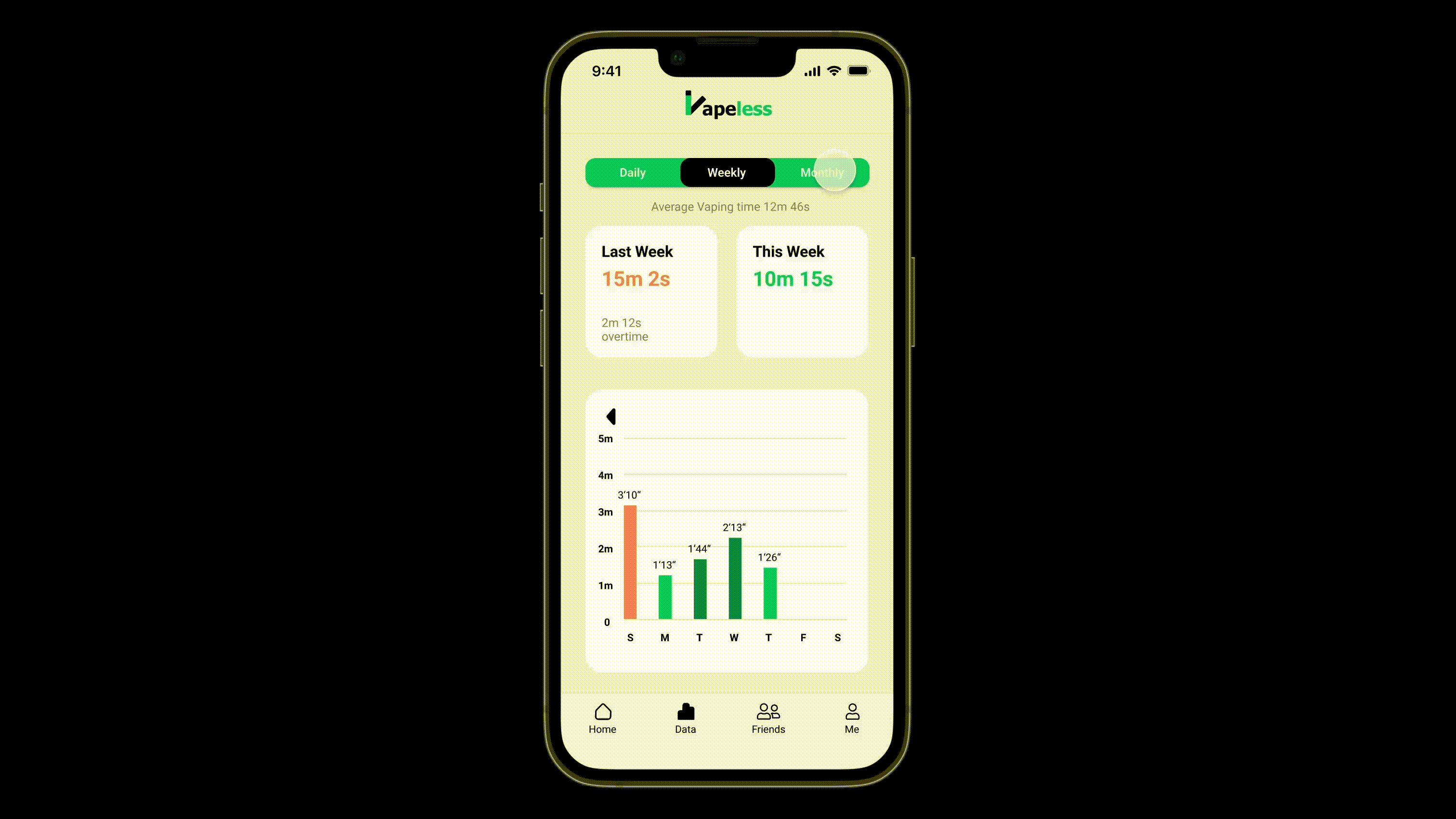 Users can view their monthly vaping usage by utilizing the daily colors found in the Monthly data, which is similar to the calendar on the home page. Additionally, users have access to past monthly data, which can be used to better understand the changes in their monthly usage.
The Friends page has been designed to meet the needs of different users. Even those who do not wish to participate in the cash competition feature can still view their friends' daily vaping usage through the friends ranking, and they can motivate each other by liking their records.

For those interested in entering the cash competition, users can invite their friends by clicking on the "compete" button above.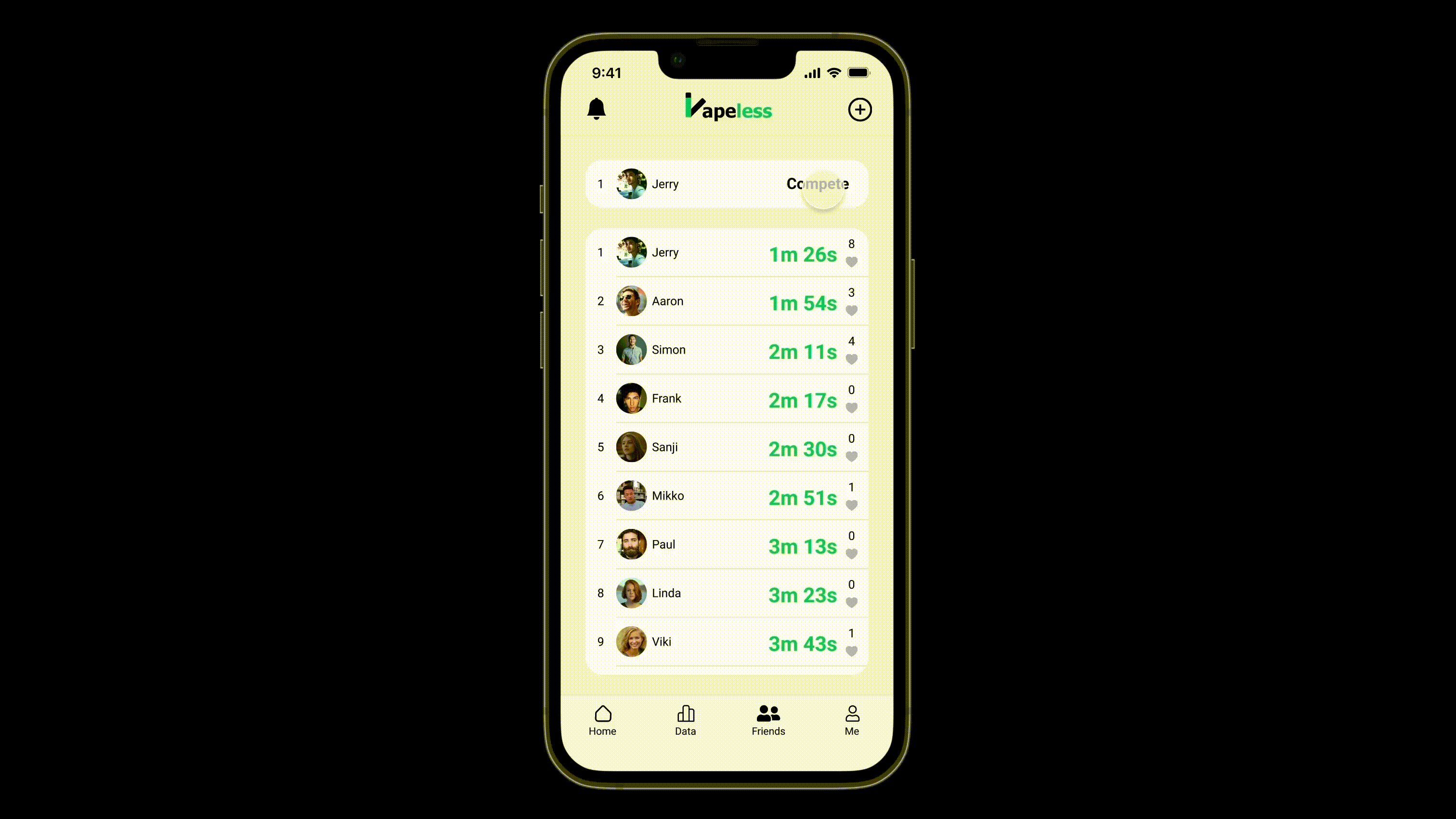 During the cash competition process, you can customize an amount and invite your friends. They will receive your invitation and may participate!
Users can view the prize amount and ranking of participants on the cash competition page. Participants can also motivate one another by liking each other's records.
The final winner will be announced following the daily data settlement and the winner will receive a medal as well as a congratulatory animation. A winning prize can be received in the account wallet and transferred to a bank card or other electronic wallet.